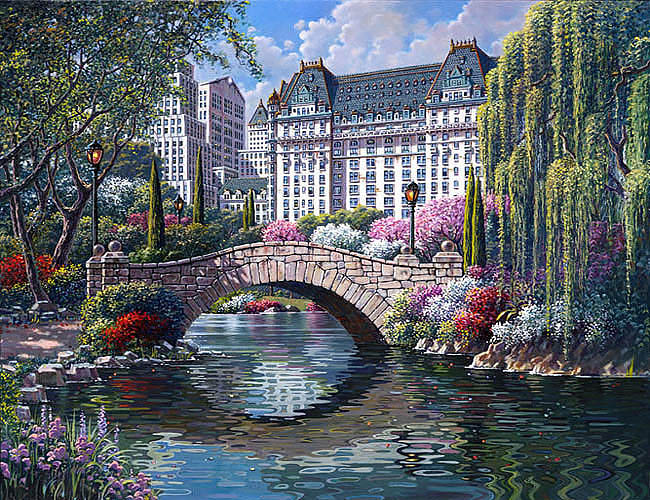 Bob Pejman

"Springtime In New York"
Oil on Canvas

SOLD
Artist Bob Pejman releases "Springtime in New York", his latest work with a stunning view of the Plaza Hotel from the picturesque vantage point of the pond in Central Park.
The Plaza, arguably the world's most famous hotel and a declared National Historic Landmark, first opened in 1907. Marilyn Monroe was photographed here, and guests included the Beatles and Frank Lloyd Wright. Scenes were shot at The Plaza for movies ranging from "North by Northwest" to "Barefoot in the Park" to "Home Alone 2."
Bob Pejman who has lived most of his life in and around New York City has always been fascinated by the iconic Plaza Hotel and it's view from Central Park. "I finally decided to paint it from my favorite view of he pond", says Pejman. And the timing couldn't be more perfect. Having been closed for three years, the Plaza had undergone a massive lobby-to-roof renovation and finally reopened in March of 2008 - at the exact time of the release of Pejman's painting.
Pejman explains, "In this painting I have rendered the Plaza with extreme accuracy and painstaking detail, reflecting the newly renovated structure. But as in most of my paintings, I have taken the artistic license to paint an idyllic setting for the park and pond to give the overall scene a sense of awe and magic.